The Reward Cache is a seasonal store replacing the Vault that offers a wide range of goods in exchange for seasonal currency. Each season spans the length of two Hunt Passes.
In the Reward Cache you'll find a number of items (including new weapon and armour skins), as well as
Rams,
Combat Merits,

Aethersparks,
Patrol Keys, and classic rewards from previous Passes. You can purchase rewards using seasonal coins which you earn through daily and weekly challenges and from hunt pass prestige levels.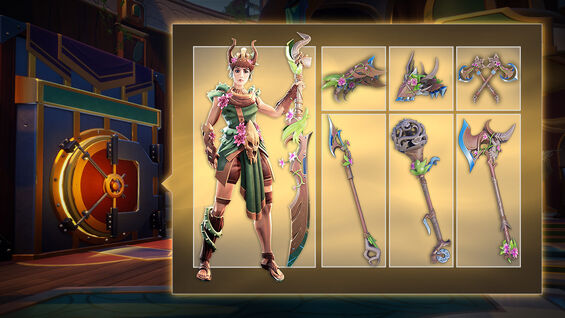 Seasonal Currency
[
]
Seasonal currency is, as its name suggests, temporary. It does not transfer over to the next season, so spend it while you have it.
While you can earn some coins from Hunt Pass prestige levels, your main source of seasonal currency will be from daily and weekly challenges. These challenges will ask you to meet specific goals (like slaying Behemoths or completing Escalations) in exchange for a currency reward.
Armour
[
]
Weapons
[
]
Style
[
]
Dyes
[
]
Icon
Name
Obtained From
Shifting Radiance
The Reward Cache for 500 during Infinite Radiance season
The Store for 100
Event Horizon
The Reward Cache for 500 during Infinite Radiance season
The Store for 100
Conundrum
The Reward Cache for 500 during Infinite Radiance season
The Store for 100
Mysticism
The Reward Cache for 4,000 during Call To Arms season
Knowledge
The Reward Cache for 4,000 during Call To Arms season
Rustic
The Reward Cache for 4,000 during Heroes of Ostia season
Divination
The Reward Cache for 4,000 during Heroes of Ostia season
The Store for 100
Titles
[
]
Title
Rarity
Obtained From
Elder

Epic

The Reward Cache for 400 during Infinite Radiance season
Vault Hero

Epic

The Reward Cache for 50,000 (Secret Stash). Only available to those who had 5,000

Vault Coins

or more during the switch from Vault to Reward Cache
Friend of Krolach

Epic

The Reward Cache for 2,500 during Call To Arms season
The Enforcer

Epic

The Reward Cache for 2,500 during Heroes of Ostia season
Wild Ranger

Epic

The Reward Cache for 2,500 during Heroes of Ostia season
Enlightened (Title)

Epic

The Reward Cache for 2,500 during Return to Light season
Walks in the Shadow

Rare

The Reward Cache for 4,000 during New Dawn season
Glider Skins
[
]
| Icon | Name | Rarity | Obtained From |
| --- | --- | --- | --- |
| | Primal Tempest | Rare | The Reward Cache for 4,000 during Infinite Radiance season |
| | Secretkeeper's Wings | Epic | The Reward Cache for 4,000 during Call To Arms season |
| | Mystic Glider | Epic | The Reward Cache for 4,000 during Call to Arms season |
Limited
[
]
| Icon | Name | Obtainability |
| --- | --- | --- |
| | Weekly Aethersparks (100) | Can be purchased once a week for 2,000 seasonal coins |
| | Daily Patrol Keys (5) | Can be purchased once a day for 400 seasonal coins |
| | Patrol Keys (5) | Can be purchased for 800 seasonal coins |
| | Daily Combat Merits (100) | Can be purchased once a day for 500 seasonal coins |
| | Combat Merits (100) | Can be purchased for 1,000 seasonal coins |
| | Daily Rams (5,000) | Can be purchased once a day for 400 seasonal coins |
| | Rams (5,000) | Can be purchased for 1,000 seasonal coins |
Vault
[
]