Hunt Pass Season: High Skies
Dauntless' Hunt Pass Season 6 was released in Patch OB 0.9.0 on July 16, 2019. Titled "High Skies". High Skies is the first-ever hunt pass that features not just one Hunt pass, but two. Both containing two full tracks of 50 levels. From July 16 to 22 of August is the Fortune & Glory and Zephyr Strike will begin immediately after.
The Collectable that can be found in Ramsgate is skulls. But the item that is dropped by the behemoths are the Gleaming Pearls.
This collectable that is found in Ramsgate is Aetherhedrons. They are aether being caught by Aether Traps.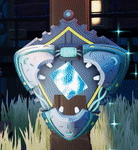 Endurance Squad takes on Defiance Squad in our first-ever Dauntless #FactionFight! Choose a side, equip a sigil, and earn points for your team with every hunt. On September 5th, the winning faction's lantern will be added to the store … for free. Lore