"What is best in life? To slay, to celebrate, and to do it all in true barbarian style. Get started with the Burndown Elite Track."
Burndown was released with patch OB 0.7.1 and lasted from Apr 24, 2019 to May 21, 2019. It revolved around the Barbarians from the Burning Heights island chain.
Collectable
[
]
The Collectable in the Burndown Hunt Pass was Burning Braziers.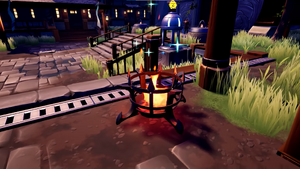 Burndown Rewards
[
]
Burndown
Level
Free

Elite

1
Bronze Slayer Core (x1)
Firewalker (Hunt Arrival)
2
Barrage Grenade (x3)
Inferno Grenade (x3)
Coldsnap Grenade (x3)
Transfusion Grenade (x3)
Sword of the Destroyer
3

Platinum

(x25)

Platinum

(x50)
4
Bronze Slayer Core (x1)
Bronze Slayer Core (x1)
5
Vicious Shield (Sigil)
Dragon Breath
6
Silver Slayer Core (x1)
Silver Slayer Core (x1)
7

Rams

(x5,000)

Aetherdust

(x50)
8
Bronze Slayer Core (x1)
Barricade of Iron (Sigil)
9
Vicious Shield (Flare)
Barricade of Iron (Flare)
10
Gold Slayer Core (x1)
Savage Light
11
Silver Slayer Core (x1)
Bronze Slayer Core (x1)
12

Ace Chips

(x30)
13

Platinum

(x25)
Maul of the Brute


Platinum

(x50)
14

Rams

(x5,000)
15
Tattered Brutality
Crackle and Pop
16
Silver Slayer Core (x1)
Brutal Executioner (Flare)
17
Barrage Grenade (x3)
Inferno Grenade (x3)
Coldsnap Grenade (x3)
Transfusion Grenade (x3)
18

Platinum

(x25)

Platinum

(x50)
19
Brutal Executioner (Sigil)
20
Staff of Bones
Gold Slayer Core (x1)
Cruciform Ward (Flare)
21
Bronze Slayer Core (x1)
Silver Slayer Core (x1)
22

Ace Chips

(x30)
23
Silver Slayer Core (x1)

Platinum

(x50)
24
Gold Slayer Core (x1)
25

Transmog Stone

(x5)
Helm of Conquest
26
Iron Triblade (Flare)
27

Aetherdust

(x50)
Barrage Grenade (x3)
Inferno Grenade (x3)
Coldsnap Grenade (x3)
Transfusion Grenade (x3)
28

Platinum

(x50)
29
Iron Triblade (Sigil)
30

Rams

(x5,000)
Axe of the Nomad
31
Bronze Slayer Core (x1)
32

Ace Chips

(x30)

Ace Chips

(x30)
33

Platinum

(x50)
34
Spear of the Gladiator
Barrage Grenade (x3)
Inferno Grenade (x3)
Coldsnap Grenade (x3)
Transfusion Grenade (x3)
35
Silver Slayer Core (x1)
Barbarian's Roar
36

Rams

(x5,000)
37

Phoenix Opal

(x25)


Ironthistle

(x40)


Skybloom

(x50)
Heart of the Warrior (Flare)
38

Platinum

(x50)
39

Aetherdust

(x50)
40

Ace Chips

(x30)
Burning Banner
41
Silver Slayer Core (x1)
42

Ace Chips

(x30)
43
Barrage Grenade (x3)
Inferno Grenade (x3)
Coldsnap Grenade (x3)
Transfusion Grenade (x3)
Blades of the Warlord


Platinum

(x50)
44
Cruelty's Edge (Sigil)
Cruelty's Edge (Flare)
45
Demon of the Sands (Title)
Gold Slayer Core (x1)
Guns of the Tyrant
46

Platinum

(x25)
Aegis of the Restless King
47

Transmog Stone

(x5)
48
Gold Slayer Core (x1)
49
Rain of Spikes (Sigil)
Rain of Spikes (Flare)
50
Barbaric Crown
Barbaric Courage
Barbaric Strength
Barbaric Tread
The Barbarian (Title)
Media
[
]