The Hunt Pass offers a way to earn seasonal rewards to all Slayers looking for a challenge. The pass consists of 100 levels and two tracks: the Basic (free) track and the Elite track. You can check on your progress and view potential prizes by talking to Gregario Flynt in Ramsgate Bazaar.
Free Track
[
]
All Slayers start out with free access to the Basic/Free track – the lower track visible when you look at the Hunt Pass. This track offers rewards after every few levels, with prizes such as Rams, Emotes, Platinum, and Reagents.

Elite Track
[
]
On the upper half of the Hunt Pass, you will see the Elite track. This track costs platinum to unlock, the cost varies with the player's country. If you make it all the way to the end (Level 100), you will earn 950 platinum back. Ace Chips, Transmog Stones, seasonal currency and exclusive transmogs are sprinkled throughout the track as well.You also earn the rewards on the Free track along with Elite track rewards.

Levelling Up Your Hunt Pass
[
]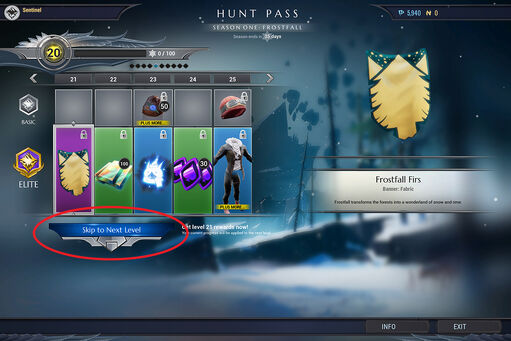 As you progress through each season and complete bounties or other special tasks, you'll earn Hunt Pass experience points (XP) as a reward for your hard work. Every 100 Hunt Pass XP you earn will unlock a level in your Hunt Pass. You can check on your progress and view potential prizes by talking to Gregario in Ramsgate Plaza.
If you're running short on time or just want to get closer to a particular prize, you can use platinum to buy 100 XP and skip ahead to the next level in your Hunt Pass. Each level skip costs the same amount of platinum, and you can skip as few or as many levels as you like. Partial progress at any level will carry over after your purchase so you retain your progress through the next level.

Rewards
[
]

All rewards you earn through the Hunt Pass can be redeemed by speaking to Gregario Flynt. Click the purple Claim Rewards button to pick up your prizes. Please note that this button will only appear if you have completed a level that offers rewards.

Upon finishing 100 levels, any Hunt Pass XP earned goes towards Prestige levels. For each prestige level you complete, you are rewarded with time-limited Seasonal Currency which you can use in the Reward Cache. The Free track rewards you 5 seasonal currency, the Elite track grants you an additional 20 seasonal seasonal currency.

List of Hunt Passes
[
]
List of Cosmetic Hunt Passes
[
]
List of Slayer Commission Hunt Passes
[
]
List of Event Passes
[
]
Hunt Passes
2018
2019
2020
2021
2022
Slayer Commission
Event Pass